---
Projects | Guides | Gallery | Articles | Contact
---
MOBY2 (2003)
Moby 1 was all about excess, MOBY2 is more about finesse. The mods performed to the case are some of the finest I have ever done and required a lot of thought and planning to get them all to work together properly and without looking like a wiring nightmare. I have been working on this system for nearly a month and it is super sweet... MOBY2 was featured in the August 2004 issue of MaximumPC magazine as their "Rig of the Month", the system itself is rock solid and very quick.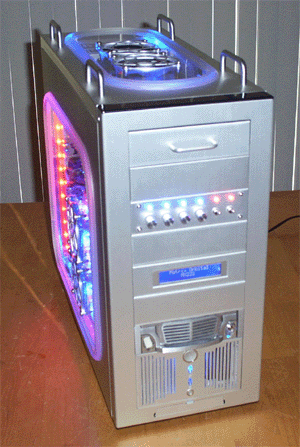 I had to cut close to two inches off the edge of my side panel window to make it fit (it was a 12x16 window I bought... too big) and then I drilled two 80mm fan holes into the side window to house some 9 LED fans.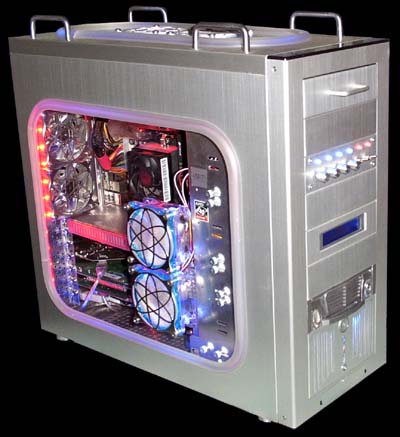 A picture of the just finished case interior, I am pretty proud of the cable management, considering how much stuff is packed into this case...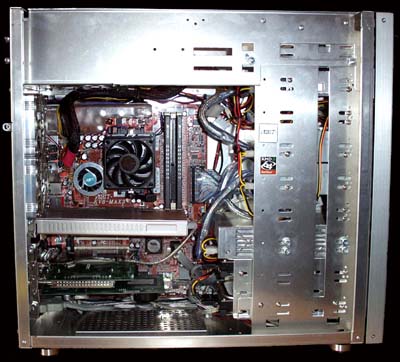 Putting an LCD screen into a computer case is not a new idea, but the couple mods that I've seen have used a 5.5" LCD... I instead took a 6" automobile headrest LCD screen that was too wide to fit inside a 5.25" bay and modded it (alot) while refining it into a flip-out single bay device with a custom handled coverplate. The mini-monitor has an awesome degree of viewing angle and only draws 9 watts making it absolutely perfect for this application.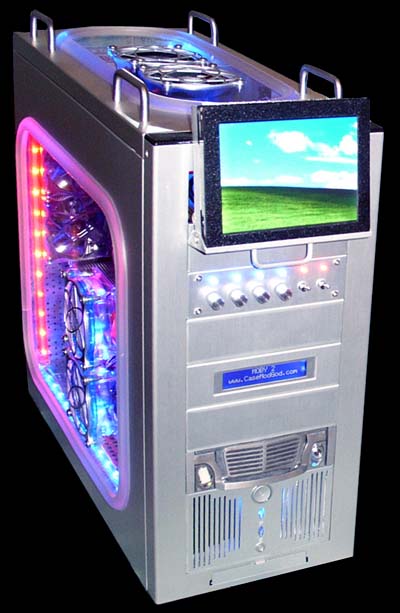 The LCD screen runs at 640x480 and is a very cool little second monitor, I can use it to change bios settings, show system info, run my TV tuner or watch DVDs on it... it can do anything a full size monitor can do only smaller.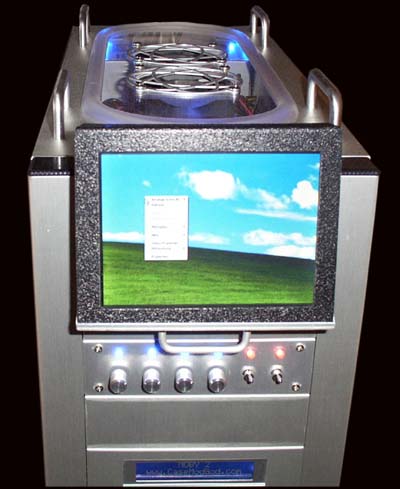 I stealthed all of my drives to match the front of the case, I even replaced the faceplates to my fan controller, FDD bay (now a HDD bay) and Matrix Orbital LCD so that it would all flow together.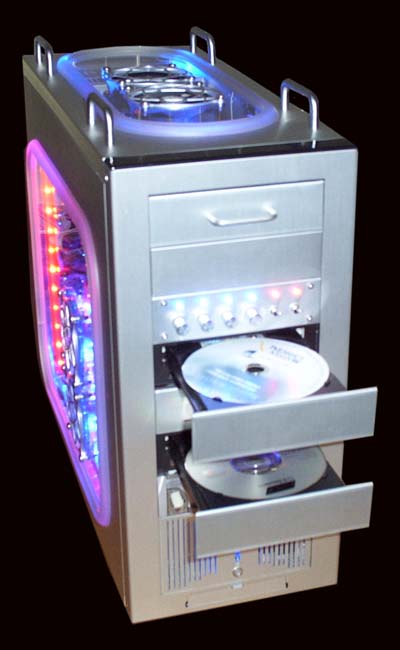 MOBY2 is a really heavy modded PC, the four top case handles are attached to the frame of the case, they are sturdy and make moving the PC around easier. I drilled a couple of 80mm fan holes into the top window for two "old school" fiber optic LED fans recycled from my old case and then finished both windows off with translucent molding.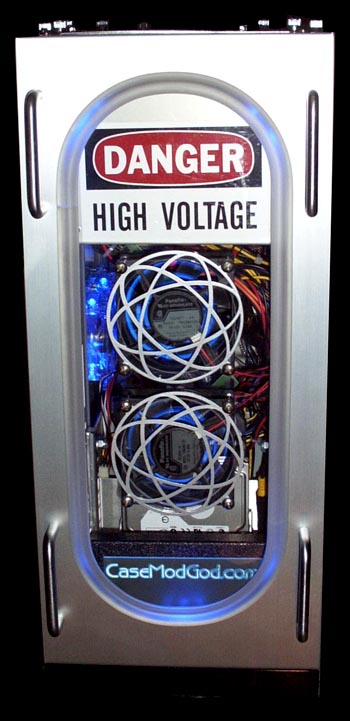 Three quarter window side/front shot...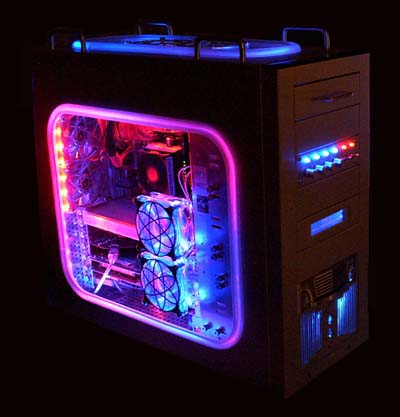 Side window lit up (case lighting is entirely LED based, no CCFLs or EL lighting for MOBY 2).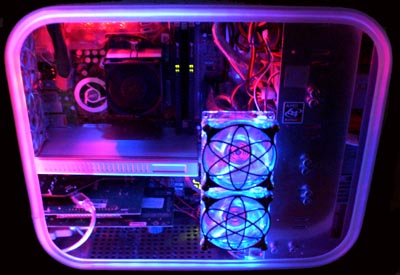 Top case lighting is provided by a blue Lazer LED in the front, two blue fiber optic fans and two blue LEDs in the back corners.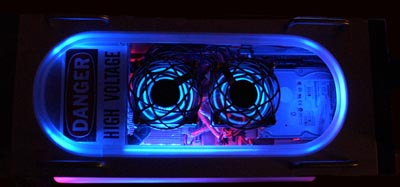 System Specs:
- Lian Li Silver ATX Mid Tower Case, Model "PC-6077"
- Antec "TrueBlue" 480W PSU
- ABIT K8T800 Chipset Motherboard, AMD Socket 754 CPU: "KV8-MAX3"
- AMD Athlon 64 3200+, 1MB L2 Cache
- 2X Corsair XMS Extreme Memory Speed Pro Series, Low Latency 512MBDDR PC-3200PRO
- 2X Western Digital Raptor 74GB 10,000RPM SATA Hard Drive, Model WD740GD for SATA RAID 0 array
- 2X Western Digital Special Edition 250 GB 7200RPM IDE Hard Drives
- Sony DVD+RW/-RW Drive, Model DWU18A Black
- Sony Black 52x32x52x16 DVD/CDRW Combo Drive, Model CRX320E Black
- PNY Technologies GeForce 7600 GS 512MB DDR2
- Leadtek PCI TV/FM Tuner Card, Model "WinFast TV2000 XP Deluxe"
- US Robotics 56K V.90 Data/Fax/Voice Modem, Model 2976
- APOLLO PCI to USB Card, Model "SD-U2VIA6202-4I"
- Matrix Orbital MX222