---
---
Feldm4n - Project: "Predatron"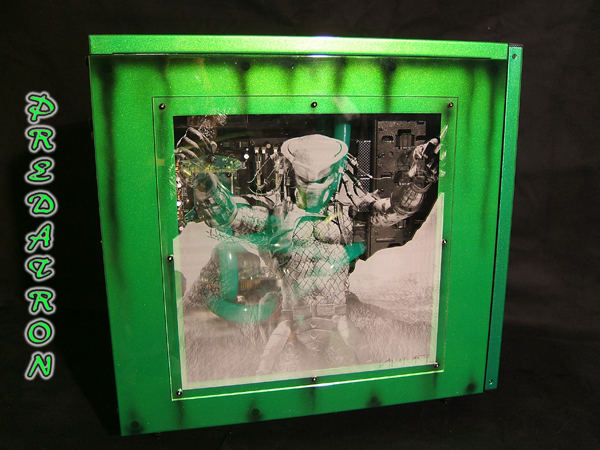 Well, technically the Predatron mod is my first ever. I have been working on it for a year and a half now. It has undergone many changes as I became more experienced in modding. As I became more experienced my ideas and thoughts began to go outside of the box, literally. I found myself unafraid of making cuts or getting in contact with people who could help me get the job done. The case is dedicated to my Aunt, Uncle, Cousin, Dad, and Grandparents, but also to my Grandfather who I lost in May of 2006. After I lost him I vowed to build something incredible in his name. That is what started me off in finishing this project to the highest degree.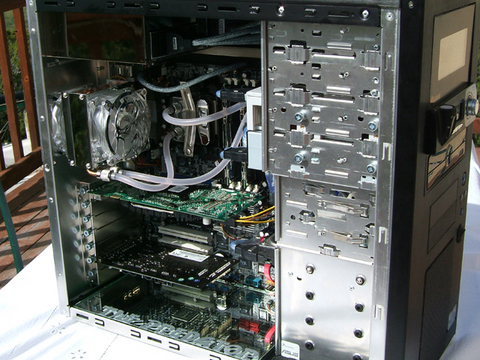 So here is the first picture, this is what it looked like when I first started. Just a case with a custom cut mirror, a cheapo beginner water cooling system and dremeled out existing fan grills for better airflow to internal components and radiator. I remember getting a lot of compliments on wire management. Wire management was just something that came to me naturally. I just hid them on my own because I like modern pieces of art that are simple but great looking. Nothing is taking away from the goodness. After I got the first setup done I realized I did not like the stock tubing with the milky look to it. So I headed over to the hardware store to pick up some new tubing that was clear. So when you added the UV fluid you could see it glow like the Predators blood.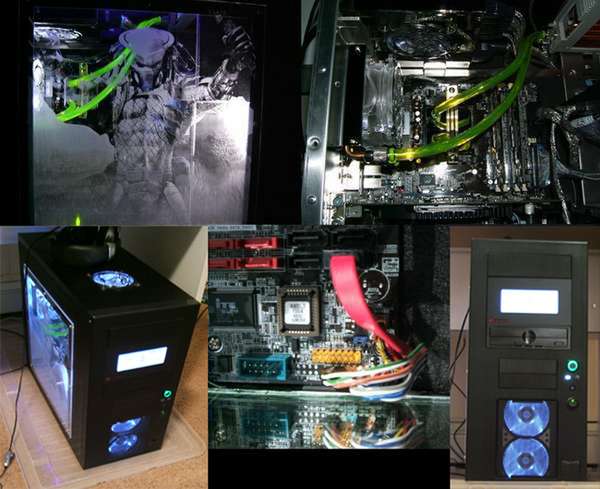 ---
---
Overall I was happy with what I had created since I was so new to all of this modding talk. I figured yea it looks good! It is excellent but it was far from groundbreaking or an attention getter. I look at PC modding like tricking out a car. Everyone wants to be an individual about their work, thus standing out from the crowd. I figured I want to be that guy in the back of the magazine or on the cover. It inspired me seeing works from the likes of Defyant, with his clever all hand built reservoirs, his elegant look that is yet simple but so far ahead of the times. The likes of Bill Owen over at MNPCTECH with his awesome builds that are not to be matched. I found it ironic that Bill & Def found themselves together on MNPCTECH.com main page. They are inspirations. Still I would be lying if I did not mention anyone who is a modder. I used a lot of tips and tricks from local forums, as well as feedback on many ideas. The modding world is a beautiful place. Very creative people that come together, and not many put down another's hard work. You always have your jealous people though.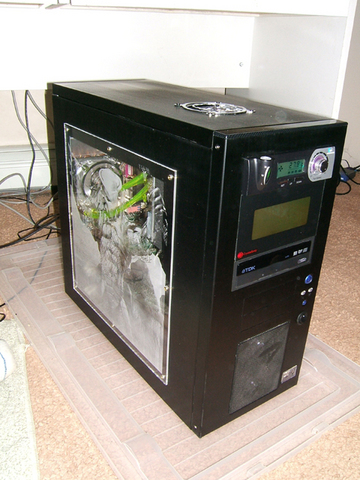 So after the first "ok I promise I'm done", I decided I was not. I ended up drilling an 80mm hole in the top of my case for a blowhole that would now connect a second 80mm radiator. Then I was browsing the forums and saw that someone made an iPod holder out of acrylic. I like the acrylic idea but I wanted to keep it "real". So I took some time to build a holder out of a gutted 16x CD/RW drive. I gutted it by unscrewing everything, pulling everything out and screwing the main shell back together. I then cut a rectangle in the top to the dimensions I desired. I then fit it with some foam and cut the foam for the ipod's shape. Pulled the foam out and painted it. It was a trick though because it would never slide like I would have hoped. The fit was just to tight. So I had to mod out the inside of the 5.25" drive cage. I did this by cutting, bending, and filing down any part that would make it hard to slide. The end result was an easy to slide in and out iPod holder. I covered it with carbon fiber vinyl and slid it into place, I then used two 90degree piece of metal on the front of the drive so I could mount the stealthed plate onto it. After that I hit the front with carbon fiber as well. All in all the iPod dock was a bit of a pain but I love It.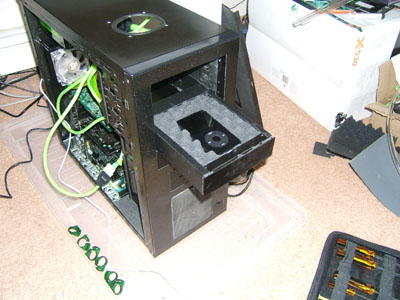 I then realized I hated my existing water-cooling system and the colors I was running with. It reminded me more of an alien case then anything, I hate Aliens! So I ordered up a Primo chill water pump that was UV green. It made a nice addition and that's when all my ideas started spawning like there was no tomorrow. I do my best thinking as I lay in bed and turn the TV off at the end of a long day. Just laying there and in visioning what it is I want to see and create.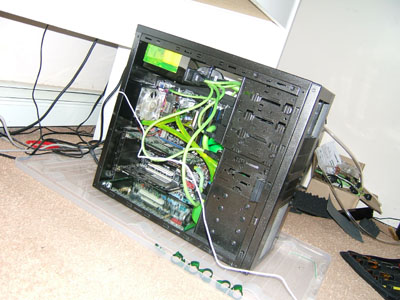 I ordered up all the correct colors I wanted and got to work on what was in my head. I got to sketching it all out and it started to form.
The front started to come together as well as I had imagined. I wanted to keep the stock look of the Kingwin case, which shipped with an already installed piece of carbon fiber running across the top of the case. I like carbon fiber, and mainly why I did what I did to the front but I also wanted to stay true to this amazing case.