---
---
Modding Tools Explained
I am a man and I like tools (a lot). I have always been the type to try and use the tool most suited for the task at hand, even if that meant going out and purchasing new tools to do it. I have tried case modding both ways and the "do the best with what you've got" method will only get you so far, I have found having the right tool for the job makes all the difference and also makes for a more professional finished mod. I am not going to list every tool that could possibly be used to mod, I am just showing most of the tools that I personally use, and so far the tools listed have been about all I have needed (minus pencils, sandpaper and the like) to pull off some really killer modding projects. I hope that this guide gives those new to the hobby an idea of the tools available to make case modding easier and also a little insight into their use, having said all that... welcome to the toolbox.
---
Safety Gear
1 Safety Goggles / Safety Glasses - For eye protection goggles are the best choice as they provide the most shielding, but if you refuse to look like "Scuba Steve" at least wear a pair of safety glasses (like the ones shown) to prevent any debris (broken cutoff wheels flying at mach one) from getting into your eyes. Eye protection is the most important tool in modding.
2 Earplugs - Earplugs should always be worn when using power tools because all power tools are generally loud, they are especially obnoxious when working with metal. Save yourself a lot of grief and just wear them.
---
Dremel & Accessories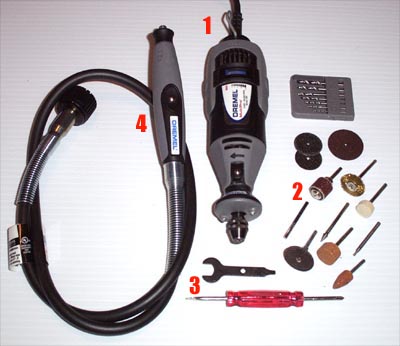 1 Dremel MultiPro - For case modding a Dremel is both a versatile and affordable tool. If you do not already own one it is highly recommended that you get one. The Dremel shown has a Dremelite (attachment #677) and a Dremel Chuck (accessory #4486) added to make modding easier.
2 Rotary Tool Bits - Top to bottom and left to right are; drill bits, cutoff wheels, sanding; burnishing; polishing bits, cutoff wheel bit and grinding bits.
3 Dremel Tools - The little wrench comes with the Dremel and is not necessary if you buy the Dremel Chuck, the screwdriver shown below it helps when changing cutoff wheels.
4 Flex-Shaft - This accessory helps to take the bulk out of the tool and allows you to work in tighter areas. Not entirely necessary, but very nice to have.
*To learn more about this tool and its accessories visit Dremel.com
---
---
Jigsaw & Accessories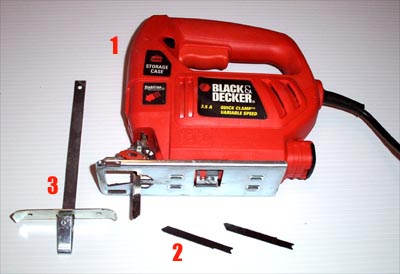 1 Black & Decker Jigsaw - This jigsaw has a quick clamp release that makes changing the blades simple and quick, but the nicest feature would have to be that it is variable speed which helps when doing detailed cutting.
2 Jigsaw Blades - Choose the right blade for the job, most come labeled as to which materials they are best suited to cut.
3 Edge Attachment - This part came with the jigsaw and helps to keep your cuts straight, it attaches to the jigsaw and runs against the edge of whatever is being cut to make straight lines.
---
Drill & Accessories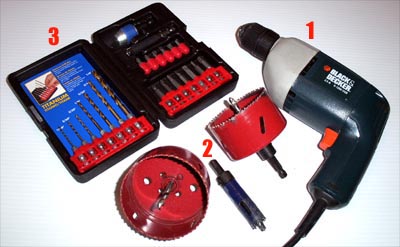 1 Black & Decker Drill - This drill is variable speed, reversible and has a keyless chuck... all features to look for when buying a good drill. My opinion is that cordless drills are not as good as corded for modding purposes, especially when cutting metal.
2 Hole Saws - The sizes I own are the most commonly used and are 80mm, 92mm and 3/4 inch. Hole saws consist of the hole saw, an arbor and a pilot bit. A hole saw is not a cheap tool but they really make cutting blowholes simple.
3 Drill Bits - Basically the more sizes and types of drill bit you have the better, there are bits made specifically for the different materials to be drilled and using the right bit for the job always makes things easier.
---
Measuring Tools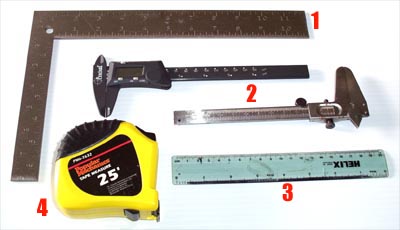 1 L Square - Works well as a standard ruler and also makes sure your squares are square.
2 Calipers - The top one is digital and the bottom is standard, great tools for specific measuring and also for finding the diameter of objects.
3 Ruler - Everyone should own one, it is an important modding tool that costs next to nothing.
4 Measuring Tape - You probably already own one of these, throw it in your modders toolbox because it comes in handy while modding.
---
Screwdrivers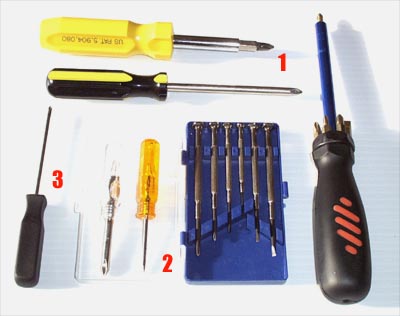 1 Standard Screwdrivers - A no-brainer, screwdrivers are a necessity. The screwdriver on the right has an extendable magnetic pickup and interchangeable bits, I paid $3USD for it.
2 Precision Screwdrivers - When you need a set you will be glad you had them, I would not have been able to mod the 6" LCD without a set of these. Precision screwdrivers do not cost much and belong in a modders toolbox.
3 Small Screwdrivers - These are just the oddball screwdrivers that I have acquired here and there and they all serve a purpose, so into the toolbox they go.
---
Cutting Tools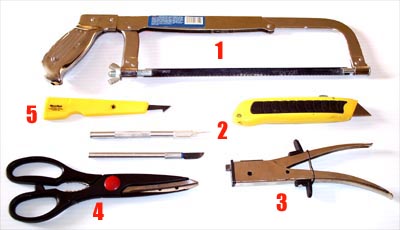 1 Hacksaw - Because sometimes a cut doesn't call for dragging out the jigsaw or dremel.
2 X-Acto Knives/Drywall Knife - Good for cutting templates, masks and removing heat shrink.
3 Nibbler - A highly recommended tool, it doesn't cut big or fast but it has a permanent place in my toolbox. Nibblers coast around $10USD, do yourself a favor and get one.
4 Heavy Duty Scissors - The pair shown can cut through Lian Li aluminum with ease, handy.
5 Plexi Cutter - An excellent tool for cutting Plexi and acrylic, slow but precise.
---
Clamping Tools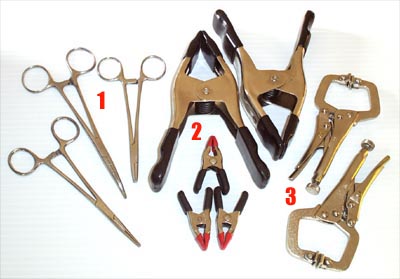 1 Hemostats - Good for holding small wires together when soldering, also for changing jumpers and picking up dropped screws.
2 Spring Clamps - Necessary for holding things in place or holding things together, two sizes are shown.
3 Vise Grip Clamps - If you need to really hold things together tightly this clamp tool offers adjustable tension.
---
Files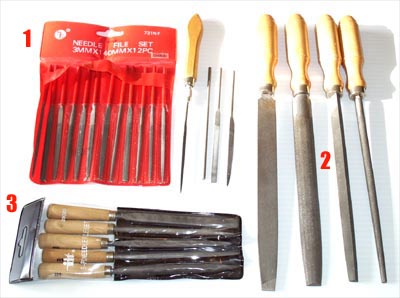 1 Needle files - Great for precision filing, there are two sets shown and the set on the right is made by X-Acto. This is the type of tool that can make mods look more professional, I use mine a lot.
2 Large Files - Good for de-burring cut edges and removing excess material, files are the most used tools I own and are key to good modding.
3 Medium Files - When large files are too big and needle files are too small these are the ticket. No modding toolbox should be without a good set of files.
---
Wiring Tools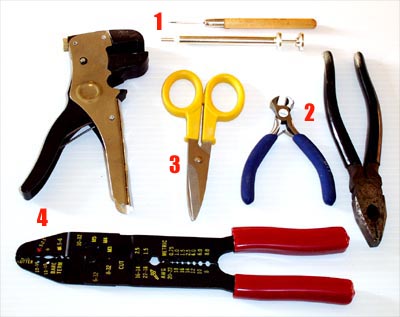 1 Molex Tools - The tool on top is a pin tool, it is good for depressing the tabs on molex pins so that the wires can be removed. The tool below is a plunger style pin removal tool and makes removing pins quicker.
2 Nippers/Pliers - Used for cutting wire, crimping connectors, etcetera.
3 Electricians Scissors - These scissors have a serrated edge that keeps wires and the like from moving around while cutting.
4 Wire Strippers - Two types are shown with the top wire stripper being the preferred model because it is spring loaded, easy to use and strips wires clean. I paid $3USD for mine.
---
Electrical Tools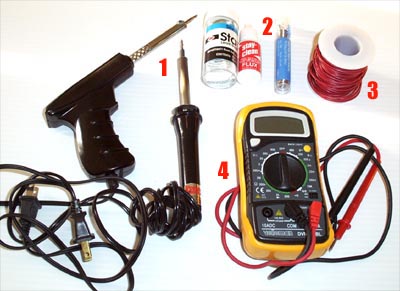 1 Soldering Guns - The two soldering guns shown were very inexpensive and have so far worked good enough, there are more expensive types that work better but I am holding off until I need one.
2 Solder & Flux - There are different types of solder, not all are for electrical use and you should make sure you are using the right solder for the job.
3 Wire - It is a good idea to keep wire in your modders toolbox, sometimes connections need to be lengthened and it is nice to have on hand.
4 Multimeter - For a better idea of what this tool is used for check out our multimeter guide.
---
Heating Tools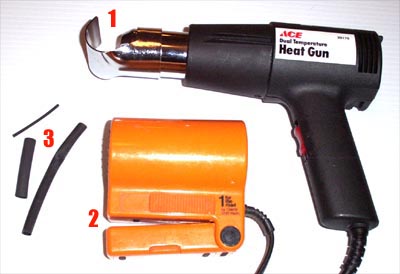 1 Heat Gun - Good for curing heat shrink tubing and also for paint removal, the model shown has two heat settings and a curved heat shrink attachment.
2 Hair Dryer - If you need paint or anything else to dry quickly a hair dryer can help accelerate the process, I am impatient and use mine a lot.
3 Heat Shrink Tubing - From covering wiring connections to holding Flexo sleeve in place, heat shrink makes wiring look cleaner.
---
Adhesives & Tapes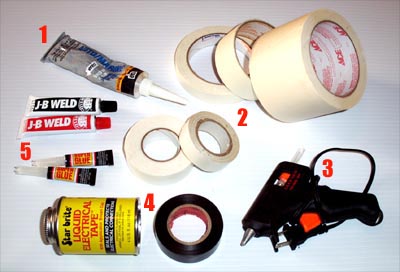 1 Silicone Sealant - Great for holding down windows and also can be used as an electrical insulator.
2 Masking/Double Sided Tape - Masking tape to keep your project from getting scratched up or for painting purposes, double sided tape for holding windows, inverters and more in place.
3 Hot Glue Gun - When you need it you will be glad you had one, great for holding things in place. The gun shown cost $3USD.
4 Liquid/Standard Electrical Tape - Pretty much self explanatory, if you don't like heat shrink tubing use one of these products instead.
5 Super Glue & J-B Weld - Stick stuff together with these (with ease).
---
Happy Modding
- Guide written by ARTbyTROY
---